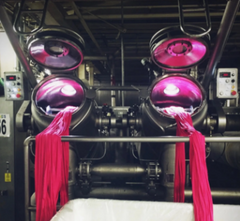 Made in the USA
At US Blanks, our entire collection is designed and crafted in America. From concept and development to fabric production at our textile mill, and in-house garment cut and sew.

We produce our fabrics locally through our partner knit and dye facility, currently the largest textile mill in the USA, outputting millions of yards of fabric weekly. Our fabrics are knitted and finished on only the highest quality machines, under the supervision of a team of textile engineers.

The majority of our cutting and sewing is done right here, in-house at US Blanks, where our modular sewing teams help construct the finest quality garments. We are continually expanding our internal manufacturing base to become even more efficient in an effort to achieve the best crafted garments possible.

We stock dozens of fabrics in our textile warehouse and are constantly innovating and searching for sustainable options to sit alongside our classic cotton and cotton blend fabrics.
Our superior knit fabrics are considered some of the best in the world.